The Hay Legal Group PLLC will host the Kickoff Party for Texas Appleseed's Amplify Austin fundraising effort on Thursday, March 5 from 5:30-7:30 pm at our offices at 402 W. 7th Street.
This event will launch the 24 hours of giving to Texas Appleseed through the Amplify Austin's annual campaign with I Live Here, I Give Here.
For those interested in attending and supporting this great cause, please RSVP by February 27. Interested in scheduling a donation to Texas Appleseed's Amplify Justice campaign – just visit their page.
ABOUT TEXAS APPLESEED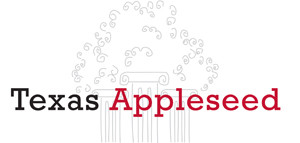 The mission of Texas Appleseed is to promote justice for all Texans by leveraging the skills and resources of volunteer lawyers and other professionals to identify practical solutions to difficult systemic problems.
Help Texas Appleseed continue to advocate for these solutions affecting the disadvantaged and marginalized in Texas by showing your generosity on March 5-6 during Amplify Justice.
"We are thrilled to team with Texas Appleseed for their Amplify Austin effort. They do extraordinary work for many Texans and are a strong advocate for those underrepresented in the state," said John A. Hay III, managing partner of The Hay Group.
ABOUT AMPLIFY AUSTIN
Debuted in 2013, Amplify Austin Day is a 24-hour day of community-wide giving that provides an easy and fun way for our entire community to give together and help hundreds of nonprofits that are meeting critical needs.
Last year, 498 nonprofits participated in Amplify Austin, with more than 500 nonprofits participating in 2015. All of these organizations play an important role in making Central Texas a better place to live.