Congratulations to the Austin's team of St. Jude Children's Research Hospital advocates who hosted the most successful Lone Stars and Angels Gala – raising more than $318,000 – and celebrated the 10th anniversary of the event.  The event was chaired by the Firm's John A. Hay III, who just completed his 4th year in that role.
"This year represents the reality come true of the vision laid out 10 years ago," John said.  He added, "without the hours of hard work of the St. Jude staff and volunteers, this great event would never have been able to achieve the success it has.  I look forward to seeing the growth over the next decade."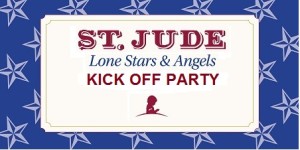 Join us to kick off the upcoming St. Jude Lone Stars & Angels party! Enjoy great drink and food specials, enter to win prizes including tickets to Lone Stars & Angels ($400 value) and help us raise money for the kids!
The Dogwood Austin
Thursday, June 4th
715 West 6th Street │ Austin TX 78701
5:00pm- 8:30pm
10% of all proceeds from the evening will go to St. Jude Children's Research Hospital!
To learn more about St. Jude Lone Stars & Angels Party, click here.
Thank you to our kickoff party sponsor The Dogwood.
John A. Hay III, managing partner of The Hay Legal Group PLLC, was the 2014 Chairman of the Lone Stars & Angels benefit for St. Jude Children's Research Hospital, October 24, 2014 at Brazos Hall. The Hay Group was also a Hope sponsor for the event. John, and his wife Stephanie (pictured above) kicked off the dancing to Cory Morrow and his band.
Between sponsorships, ticket sales, auction items and other contributions, close to $200,000 was raised at this year's event – the largest amount in its history.
The date and new venue are set for the 2015 Lone Stars & Angels event – Friday, November 6, at the AT&T Conference Center.
St. Jude Children's Research Hospital is unlike any other pediatric treatment and research facility. Discoveries made there have completely changed how the world treats children with cancer and other catastrophic diseases. With research and patient care under one roof, St. Jude is where some of today's most gifted researchers are able to do science more quickly.