By John Hay
Recently, an article by MarketWatch highlighted the importance of having a Will: "Why you need to write a Will now, even if you're not 'rich'"
In my view, the article is spot on for several reasons, including the following.
A properly executed Will:
Makes life easier on your family after your death;
Gives you, and not the State or a Court, control over your assets;
By appointing a Guardian, formally gives you a say in who takes care of your minor children;
Helps avoiding the confusion on who actually gets what (is your Ex still on your Life Insurance Policy?);
Specifies trusts that can protect heirs from themselves!
However, the article does come up short, specifically in some of the following important estate planning nuggets.  A properly drafted, executed and witnessed Will:
Is able to transfer Home Ownership with minimal additional work often required by a Title Company to sell the real estate;
Creates a catchall to obtain funds or accounts you might have overlooked or not had at the time of the execution of the Will.  When was the last time you checked out the unclaimed property website?
Specifies how you want your remains and final wishes handled. While being propped up beside the jukebox might not be enforceable, the amount of strife between surviving siblings/spouses/parents about who "really knew what you wanted" for your burial is as endemic as clashes about money.
Lastly, a properly drafted, executed and witnessed Will package also includes estate planning documents as well-designations of guardians, power of attorneys, medical power of attorneys, and medical directives, among other documents.  Translated into regular English, if you were to have a medical emergency, is someone designated to make critical medical decisions for you?
This class filled up so quickly, we have added another one on 1/27 at 1:30-3:30 pm. To Register just call ABoR at 512.454.7636.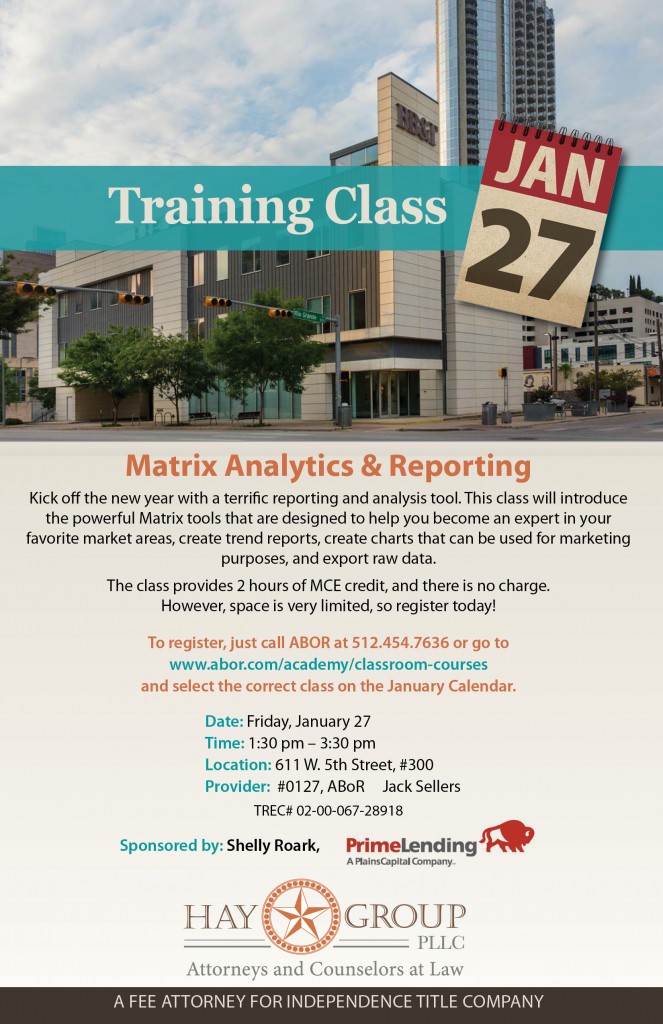 Managing Partner, John A. Hay III, is one of the nominees for Austin Business Journal's Best CEO Awards program. Winners in each category will be named at the invitation-only ceremony on Thursday, September 22.
"Running a company, no matter the size, requires a delicate balance of accountability and compassion," said Will Anderson, ABJ Digital Editor.  Mr. Hay is nominated in the category of companies under $10,000,000 in revenue.
"I am honored and humbled to be nominated among this distinguished list of local CEO's," John Hay said. "The outstanding team of professionals at The Hay Legal Group PLLC all contribute to our success everyday."
By Colin Newberry, Attorney at Law
This question is one we see often, as sometimes well-intentioned actions can lead to unintentional consequences.  Oftentimes a couple will buy a house together without being married. OR, a homeowner will add a boyfriend, girlfriend, partner, or fiancé to a property title.
Unfortunately, once a person is added to the title of a house, it is no longer just your house. You share ownership with that person, and it is, to use Texas legal jargon, Y'alls House. Even if you are the only one responsible the mortgage on the home, this can lead to trouble down the road, if you did not prepare properly from the get go.
Mind you, this isn't just for people who were in a relationship. I've handled partition suits for siblings who inherited property together via probate, investors who are divesting themselves of property or the business relationship, or in one rare case, between a mother and her child who inherited an interest in a property from the child's deceased father.
What are the things to keep in mind when approaching the division of a jointly owned, and jointly mortgaged, property? A few things to consider:
-Is it divisible in kind [physical division] or by sale only?
-Does someone want to stay in the property, or otherwise keep it? Of course, if one person is staying and one person is going, that opens up a whole other bucket of questions.
REMOVAL FROM THE MORTGAGE AND EQUITY REIMBURSEMENT – The two biggest obstacles to partitioning a property
Release from Mortgage:  The bank doesn't care that you don't own the property anymore; they care that they have two guarantors to go after if the loan falls into default. This is true regardless of whether you are married. Even in an amicable partition, the refinancing or releasing of a party from a mortgage is the most difficult step.
Understandably, anyone who is giving up their interest in a property doesn't want to have that loan on their credit report, much less be liable for the other owner's failure to pay the mortgage. When a mortgage cannot be removed as to one property owner – whether because of financial constraints or bank requirements – all that is left for the cautious owner to do is to insist on the sale of the property to satisfy that loan.
Reimbursements of equity:  Whether agreed to be sold or forced through a partition sale, the allotment of profits, should there be any, is the most contentious part of any partition. So, who gets money for what? The answer is complicated, but there are certain areas of reimbursement that ring true across all issues:
-Down Payment: Was the property co-owned at purchase, or was a second owner added to Title after purchase?
-Mortgage: This obligation is for both owners, regardless of who is on the note.  If one owner doesn't pay, they should owe from the proceeds of the sale.
-Necessary repairs: If one owner has to make a repair to maintain the condition of the property, then should they get reimbursed for that repair or split the cost?
-Improvements: Should one owner agree to another owner about improving the property, then it is possible to have the expense of that improvement reimbursed.
With any situation, however, the cost of determining value, reimbursements, and ownership can quickly surpass the value in the home. It is almost universally better to set aside the emotions of whatever relationship existed when the property was purchased, and divide up the property under the relationship as it stands now with a dry, business approach.
THE BEST EXIT STRATEGY HAPPENS AT THE INCEPTION OF THE JOINT INVESTMENT
An even better exit strategy is to have a plan at the inception of the purchase. Called a co-habitation agreement, purchase-sale strategy, or even an Agreement in the Company Agreement should the property be bought by an entity, this document serves as a Pre-Nup for Property Ownership. It states who stays and who goes, how notice is given, how reimbursements are determined, and sets timelines for refinancing or if necessary, pricing, realtors, and timetables for listing and selling the property. This contractual arrangement may seem like an uncomfortable conversation at the time, but is a necessary evil for anyone going into a significant investment with a partner you are not married to.
Back to the Question:  How to dissolve this joint ownership? The worst case answer is a Suit for Partition with a judicial determination of reimbursements and equity. The best case scenario is a practical business conversation regarding your investment. The preferred scenario is to have that conversation while things are still in the beginning, optimistic stages of ownership in the form of a co-habitation agreement previously discussed.
No matter what route you take, or are being taken on, one fact remains true. This area of law is complicated and merits the investment of an experienced attorney to guide you through your options to ensure you get the best possible result.
Join us for our Summer Soiree open house of our new downtown office at W.5th and Rio Grande, Tuesday, June 21 from 4:30-7:00 pm. Please RSVP to Karen@haylegal.com. Valet Parking will be provided, too!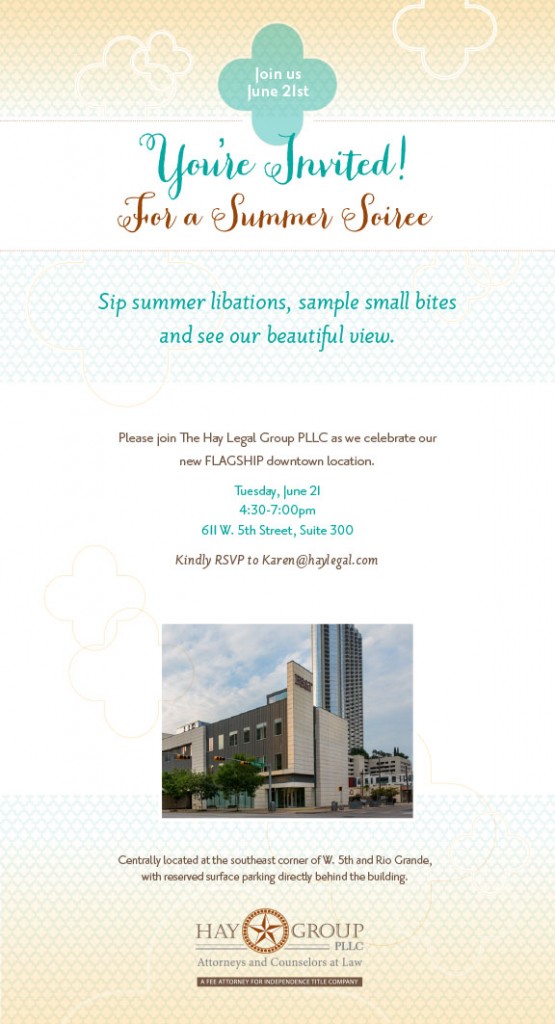 For the third year in a row, John A. Hay III, Founder and Managing Partner of The Hay Legal Group PLLC, has been selected to the 2016 Texas Super Lawyers Rising Star list.
Each year, no more than 2.5 percent of the lawyers in the state are selected by the research team at Super Lawyers to receive this honor.
The selection process for the Rising Stars list is the same as the Super Lawyers selection process, with one exception: to be eligible for inclusion in Rising Stars, a candidate must be either 40 years old or younger or in practice for 10 years or less.
All attorneys first go through the Super Lawyers selection process. Those who are not selected to the Super Lawyers list, but who meet either one of the Rising Stars eligibility requirements, then go through the Rising Stars selection process. While up to five percent of the lawyers in the state are named to Super Lawyers, no more than 2.5 percent are named to the Rising Stars list.
Super Lawyers, a Thomson Reuters business, is a rating service of outstanding lawyers from more than 70 practice areas who have attained a high degree of peer recognition and professional achievement. The annual selections are made using a patented multiphase process that includes a statewide survey of lawyers, an independent research evaluation of candidates and peer reviews by practice area. The result is a credible, comprehensive and diverse listing of exceptional attorneys.
by Hay Legal Group

As Austin's population continues to explode, many developers seeking to maximize lot space have leveled-single family homes and replaced them with two-unit condominium buildings. Additionally, many owners of multi-family buildings, such as apartment complexes and duplexes, are converting the buildings into condominiums, to allow for units to be sold separately and capitalize on the current seller's market.
The process of establishing a condominium regime for new construction is similar to the process of converting an existing building into condominiums.  The Texas Uniform Condominium Act ("TUCA") governs Texas condominium regimes, and the following documents must be in strict compliance with TUCA.
There are three sets of documents involved for each process:
-documents related to the condominium owners' association;
-documents related to the Condominium Declaration, including a condominium survey
-documents related to conveyance.
A key distinction with conversions is that conveyances of the newly created condominium units are made subject to existing leases. A key distinction with new construction is that a transfer of the Owners' Association management is likely to take place at, or soon after, closing, whereas conversions often involve the building owner maintaining control of management until a certain percentage of condominium units are conveyed.
Because of the strict requirements of TUCA, owners and investors seeking to create condominium regimes should consult with a real estate attorney and surveyor experienced with condominiums. Additionally, a commercial insurance agent will need to be involved in the process.
The Hay Legal Group PLLC prepares condominium documents on a flat fee basis, which includes filing fees with the Texas Secretary of State and the county clerk's office. For more information on our firm and how you can engage us to represent you in your real property matters, please contact our office at 512.467.6060.
Our own Beth Coffey joins 10 others as finalists for the Austin Young Chamber's ChangeMaker Award. For the past two years, the AYC has honored two inspiring leaders in the market.
At their 3rd Annual State of AYC Annual Meeting on February 26, they will recognize and pay tribute to two more individuals who are doing extraordinary things in the Austin community.
Beth is an active member of the Junior League of Austin, performing weekly with the Playhouse singers in area elder care facilities.  She is also a volunteer for Hospice Austin's Big Hearts for Brave Hearts program, helping to raise funds for Camp Brave Heart for children who have lost loved ones.  And she participated in the Austin Board of Realtors' Habitat for Humanity Holiday Blitz Build in December.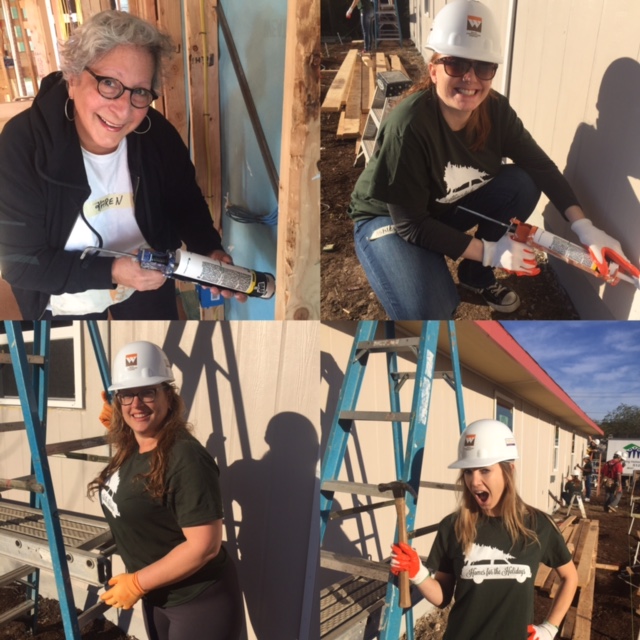 The Hay Group team members, Karen Aboussie, Ashley Boyd, Beth Coffey and Melissa Hager donned their tool belts and hard hats to help the Austin Board of Realtors' Holiday Blitz Build for Habitat for Humanity this week.
The weather cooperated with a beautiful day to be building a home for a deserving family – just in time for Christmas!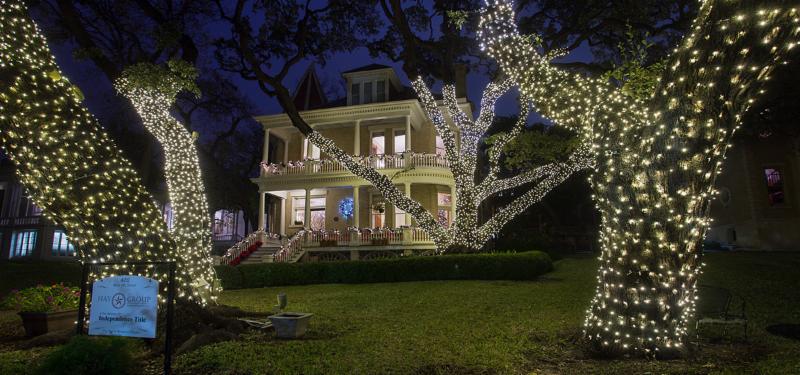 Our office is all decked for the holidays. So stop by the historic Pierre Bremond House at 402 West 7th street for your holiday pictures and enjoy the beautiful light display.
When laid end to end, these would equal more than a mile of lights! Our best wishes to you and yours for a happy, safe and joyous holiday season.