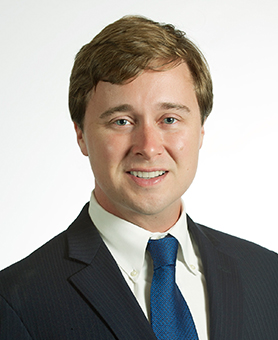 [AUSTIN, TX]— Senior Associate Colin Newberry's litigation experience has led him to a new courtroom—a fake one. Competing in the Niagara School of Law's Mock Trial Competition the second weekend of November, the University of Texas School of Law selected Mr. Newberry to be one of two coaches to teach and travel with five students as they gain essential skills necessary to become effective attorneys.
"The experience of Mock Trial for me, while I was a student, was the most important part of my legal education," Newberry said, adding "to be able to grow as an attorney through the building blocks of effective advocacy in the safe, but competitive environment of a Mock Trial competition put me years ahead of my peers upon exiting into practice."
Meeting with the team 10-15 hours a week outside of his own legal responsibilities is, as Newberry stated, "a big time commitment." However, the reinforcement of those essential objections, evidentiary rules and exceptions, and effective advocacy techniques makes the experience an important one for both students and coaches.
"I love seeing that moment when they're no longer simply acting like lawyers, but advocating like ones. It is something I try to put into my practice every day—you're not simply presenting your client's case, you're advocating on their behalf to the utmost of your abilities."
The Hay Legal Group PLLC is truly a Texas law firm, with its principal office in the historic Pierre Bremond house, located at 402 W. 7th Street, Austin, Texas 78701. Founded in 2010, the Firm was honored by the Austin Young Chamber of Commerce as Austin's "Favorite Professional Services Company" for 2012.
The Hay Group is a diverse law firm and maintains an active fee office for the State's largest title company of its kind, Independence Title Company. The Firm offers a full range of legal services and counseling in the areas of real estate, construction, development, title insurance, mortgage lending, mortgage document preparation, commercial banking, general business, outside counsel, entity formation, mergers and acquisitions, oil and gas, energy, trademark, copyright, administrative, regulatory compliance, family, and general and commercial litigation.